Think home phone isn't worth the price?
How about all these awesome features for only $14.99/mo.
Instant Second Line: Two lines are better than one. Make or receive a second call even while your phone is in use.
Free Calling to Canada and Mexico: Got family and friends in Canada and Mexico? Now you can talk to your heart's content. As a Premier subscriber, calls to Canada and Mexico are free (excluding the 867 calling area).
Backup Number: If your internet goes down, calls are automatically forwarded to another phone number.
Three-Way Conferencing: Whether you're doing business or chatting with friends, three-way conference calling has never been easier.
Voicemail Monitoring: If you don't recognize the caller-ID, listen as they leave a message and pick up the phone at any time to speak with the caller.
Send to Voicemail: Transfer a call to voicemail by pressing the "Send to Voicemail" button at any time.
Private Voicemail: Make any Ooma HD2 Handset or Ooma Linx a private extension with a password-protected voicemail account. You can also set up personal greetings, customize privacy settings, and control voicemail notifications or forwarding.
Caller Name: See the name of callers, even if they're not in your address book.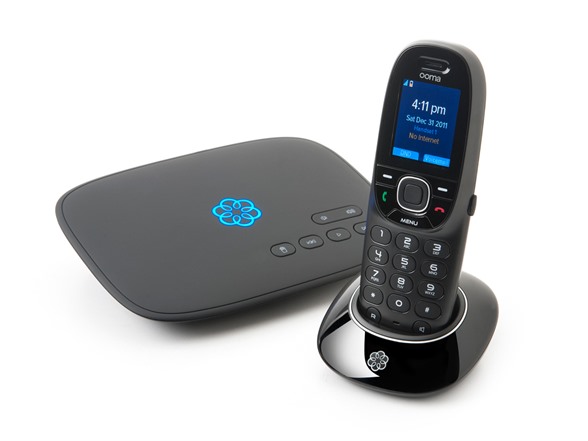 Expanded Call Blocking: Select from three pre-configured protection settings, or build your own customized call blocking profile.
Google Voice Extensions: Experience Google Voice on your Ooma system. We've simplified and enhanced the experience so that you can access Google Voice's Voicemail, Call Presentation, Listen In, and Caller-ID features, all with the press of a button.
Call Forwarding: Forward your calls to any number, even your cell phone, so that you never miss a call.
Call Forwarding: Forward your calls to any number, even your cell phone, so that you never miss a call.
Do Not Disturb: Get peace and quiet whenever you want by simply pressing the envelope icon for two seconds. All of your calls will roll into voicemail without ringing.
Free Mobile Minutes: Ooma Premier customers using the Ooma Mobile App can make and receive calls anywhere in the U.S. for no charge.
Multi-Ring: Ensure you never miss a call. Configure your Ooma system to simultaneously ring your mobile phone and home phone.
Voicemail-to-Email Forwarding (Audio): Enjoy the ultimate convenience of having your voicemail messages forwarded to your email as an audio file. Now you can listen to messages anywhere you can check email.
Voicemail Alerts: Keep up to date with new message notifications that can be sent to any email address or SMS-capable mobile phone.
Private Device: Set aside one or more of your phones as a dedicated line that will only ring when a particular phone number is dialed. Give anyone in the house their own telephone, set up a dedicated fax line, or separate your home phone and work phone.